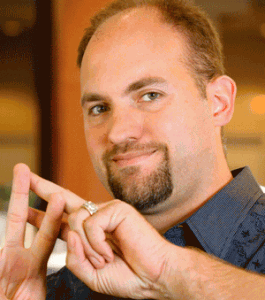 Dave Meyer, President of Bizzyweb
Here's a second transcript from my
interviews with Twin Cities marketing experts
. This week, I'm talking to social media marketing expert, Dave Meyer.
Read it and reap big benefits for your business ...
Kevin Donlin
: Welcome, Dave Meyer, President of BizzyWeb. We're going to talk about how to use social media to deliver new leads for your business. Social media is something that a lot of people are chasing after, trying to get smart on, and Dave's going to make us very smart, very quickly.
Let's start by describing BizzyWeb for people who may not know the name of your company.
Dave Meyer
: BizzyWeb is a web design and social media company that helps our customers and clients generate buzz without getting stung. And what we mean by that is we help people get out the messaging that they need and the marketing that they need using online tools and the not getting stung part means that we do that in order to help you get as much bang for your buck as possible by posting to your website, and having that cross post over to all of the social media networks. So one click, all of the benefits and none of the pain.
Kevin
: All right. So let's dive in here. What are some typical mistakes maybe two let's say, two typical mistakes you see business owners make when they're using social media?
Dave
: The first thing people make a mistake on is they dive all in and post everywhere they can think of. They set up their Facebook account and then they go into their LinkedIn account and then they start Google Plus-ing and do Twitter, and they burn out. So they'll publish something and post things everywhere and then they won't go back to it for another month. When you do that, you get people excited right away, you start getting a following, but then the key on social media is you have to be consistent. So it's better to start small and do something every week, than it is to go crazy and flood the market and flood your sales channel with information and messaging, and then let it die on the vine.
Kevin
: Yeah, you know we've all seen those blogs that stop posting like three years ago and they're still on the website. And that's like not mowing your lawn for three years or it's like a ghost town. No one wants to hang out in a ghost town. So consistency is a big problem. What would you say would be a second mistake that people make in social media?
Dave
: Another mistake that people make is they don't go into it enough. So they see that Twitter is out there or they see that Facebook is out there, and they think that it's really not for them. In general there are a lot of people, there are more than 800 million people on Facebook. So they discount that and say that their customers don't do that or they're not interested in that message. This is a big mistake. They need to at least dip their toe in the water and see if it is working. A lot of our clients that have been quite surprised in the results they've received off of publishing small and relatively innocuous things. There is a big difference between publishing sales messages all the time and being helpful. One of the things that I always say is you need to help people more than sell people when you're in social media. It's just like a conversation.
Kevin
: Oh, okay.
Dave
: People forget that a lot.
Kevin
: Yes, definitely different rules for the road in social media. So we'll get to that I think next perhaps because we talked about some of the typical mistakes. Now how do you help people overcome those mistakes? The example of the first one, you know, posting everywhere at once, burning out, not being consistent. What is your recipe for overcoming that error or problem?
Dave
: One thing we like to do and one thing that I am actually going to walk folks through in our next event is how to build a social media strategy. So when you know exactly who you're customer is, who you are for that customer, and what that customer really needs from you, it makes it really easy to generate regular content that hits that sweet spot for folks. So we'll walk folks through how to make this an easy, repeatable and consistent plan. Because once you know that you're going in the right direction, it makes it easy to course correct and stay on task.
Kevin
: Okay. So when you know who your ideal customer is and maybe what your sweet spots are in terms of what kind of content you deliver, then you're saying it kind of all falls into place?
Dave
: It does. Depending on who your customer is, you're naturally going to see one social media or network over the other kind of bubble to the top. So if what you're trying to do is connect with professionals, LinkedIn is going to be one of your naturals. If you're trying to reach "Stay At Home Moms", Facebook or Pinterest would probably be a great tool. If you're trying to reach technically oriented folks that are really comfortable with online networking that are always sharing, Google Plus is a perfect tool for you. So knowing that really makes it easy to focus your efforts. And it's easy to get overwhelmed unless you know that you're getting results and unless you know that you're actually moving in the right direction.
Kevin
: Yeah, and you help people get clear on which particular media are going to best suit them. But as you said, you've got to let the results determine which way you're going to go. You got to kind of run with your winners and you won't know which media are pulling for you until you've tried them all I suppose.
Dave
: Correct.
Kevin
: Okay. So that's some good shortcuts. What about the second problem we have, which is contempt prior to investigation? That's one way to put it. Discounting social media without giving it a try. How do you overcome that problem for people?
Dave
: The best thing that I counsel my clients on is to get their hands dirty a little bit. You have to approach social media from a conversational perspective. If people get overwhelmed they think that it's all about doing the right things at first or getting involved and making this massive splash. It's really easy to get overwhelmed and not want to start. Taking the first step by just setting up your accounts, following, listening first, is a great way to get very, very excited about social media and then you'll start seeing some results, because the more you can interact with people, the more you can connect, the more you can help people do things, the better the result you're going to see. People get this mixed up when they think it's bad, it's sales, it's trying to pitch somebody something when they don't want it. You don't want to focus on selling, you want to focus on helping people. Everyone's an expert in what they've chosen to do with their lives. Sharing that expertise is a great way to get involved, to see some real results right away, and to really start having fun with social media. It wouldn't have gotten to be as big as it has if social media wasn't fun. And if you do it right, and if you repeat the right processes, it's very easy to have a lot of fun and get involved.
Kevin
: Well, fun is good. But you've got to make it pay off in order to do it for business, and it sounds like you're able to do that for people. So if people do need a chance, why should they come see you present these ideas live in person? I know you and I speak together occasionally, and some people listening to this have a chance to see us speak live in the very near future. Why should people come to see you present these ideas live in person?
Dave
: Probably the best reason to come and experience or hear me live on this is it's really easy to ask questions and to get right to the heart of what your particular challenges are. So we like to have an interactive portion of every talk that I give and we've pushed that back and forth. We say, well who are you really trying to reach? What does that mean for you? And then we can spin off a couple of really good opportunities and first steps live and in that talk. So that's what I'm most excited about and that's what people usually get the most benefit out of. The key on social media isn't that you need to be a professional at it, or that you're going to see massive results the very first second you do it. It has to be something that you're willing to play with, that you're willing to enjoy and experience, and that you're willing to tinker with in order to get real results. You have to measure and then you have to see if you are moving the needle in the right direction. And if you're not, then you just take a different tack. But unless you do it the right way and unless you spend a little bit of time just thinking about how you're going to go about it in the first place, there's a great opportunity for wasting time. We get folks with all of the right tools to help them avoid those common pitfalls right off the bat.
Kevin
: Well, Dave, this has been really helpful. I appreciate your taking some time to share these ideas. You're a great guy that people should get to know and I want to thank you for joining me today.
Resource
: If you want to put an end to "feast-or-famine" syndrome in your business, the free Client Cloning Kit can help.
Grab your copy here
.